Jim Florentine
At the time I first met Jim Florentine, Crank Yankers was just hitting the airwaves. You might recognize him as, "You've got mail, YAAY!" Special ED.
I went to see Jim at the the release of his CD Terrorizing Telemarketers III. Jim had 2 great comedians (and friends) on the road with him. Little did I know, I'd end up with 3 creeps signing my boobs. When I say Creeps I mean, the Creeps as in "Meet The Creeps." Jim Florentine, Don Jamieson, and Chuck Mignanelli.
I think was my first and only gang signing... so far.
Not only does Jim headline at comedy clubs, sell great comedy CDs, make telemarketers cry, but he also makes the damn funniest DVDs with 5 very funny obnoxious guys taking over in very public places.

Visit Jim Florentine's site, Yaay!
See the Boobs, Yaay!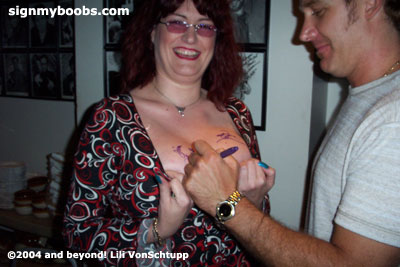 Posted by lili at February 08, 2006 12:32 AM