Gene Simmons KISS
Last night I went to the Viper Room, Johnny Depp's club in LA. I went to see The Thornbirds (Dean's band, FKA the Ducks) and see the group Metal Shop. The Thornbirds were great and you should buy their new CD as soon as it comes out in March. The single I love is Teenage Tramp. They offer it for download free now. BUT SUPPORT THE BAND, BUY THE CD!
So...(hee hee, a California SO) I was there with David (I have no friends outside work) and we were meeting Drew Carey to catch the Metal Shop part of the show. Drew is a big fan of Metal Shop and so am I now. They are an 80's rock hair band. It was like an hour of being in high school sneaking in to clubs again. They put on an incredible show. They cover Twisted Sister's I Wanna Rock to Guns N Roses' Paradise City. The banter in between songs is priceless. Again, buy the CD!
Well, there we are waiting to see Metal Shop take the stage and who should wander in? Gene Simmons and his entourage. Well, being the ever dutiful boob whore I am, I had my camera and a Sharpie ready. :) Gene holds court when he's out. He calls women to him like some sex god. It was too fun to watch. Girls were tripping over each other to say hi and get a kiss, from KISS.
Anyway, Gene is very nice, and posed for me after signing my boobs.
Once again, you read my entry, so here is what you came for...
Gene Simmons signs my boobs!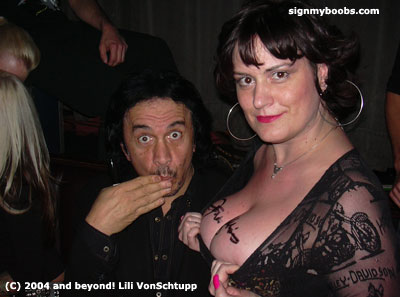 Visit these related sites:

The Viper Room
Gene Simmons online
Kiss Army Online
Dean and the boys
Metalshop
Oh, Jamie Pressly was at the Viper Room too. She's on the cover of February's Playboy, and naked in the mag. OH MY!
Posted by lili at
07:33 PM